Biology seminar focuses on trees and climate change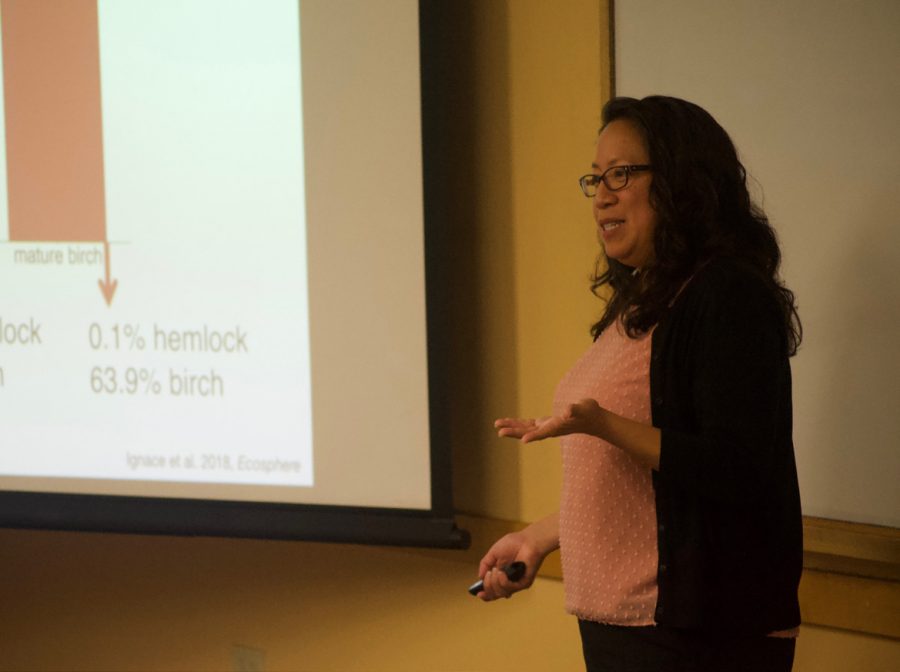 Charlotte Mineo, Sci/Tech Editor
September 26, 2019
On Thursday, September 19, the Union College Biology department hosted doctor Danielle Ignace, Assistant Professor of Biological Sciences at Smith College. Ignace explained her work to a full classroom of students, faculty and community members.
Ignace's talk focused on her recent work involving climate change, hemlock trees and the invasive hemlock wooly adelgid. Hemlocks are a conifer species that's vital for the health of many ecosystems. Invasive insects, like the hemlock wooly adelgid, threaten the health of these trees and have the potential to cause widespread impacts on entire ecosystems.
Smith College owns forested land in Western Massachusetts that was partially logged approximately 30 years ago. This accidental experiment allows for the comparison of mature hemlock trees and younger birch trees that colonized the logged land. Ignace and her team evaluated differences in soil moisture, soil respiration rates, and fungal biodiversity to better understand the environmental impacts of hemlock and birch trees.
Through perseverance and fruitful collaboration Ignace determined that soil respiration levels were higher in groves of mature birch tress than in areas with hemlocks. Several years passed before her team found these "differences that no one else had found" that they were hoping to reveal. This finding has implications for the global carbon cycle and climate change.
Ignace acknowledged that her current work cannot pinpoint whether changes in soil carbon dioxide are caused by plant activities or by the resulting changes in animal and microbe activity.
She hopes to receive funding for new equipment to better address these experimental challenges. Hopefully her work will help scientists to better predict the effects that invasive species and ecosystem-level changes will have on climate.