Dutchwomen field hockey win against Castleton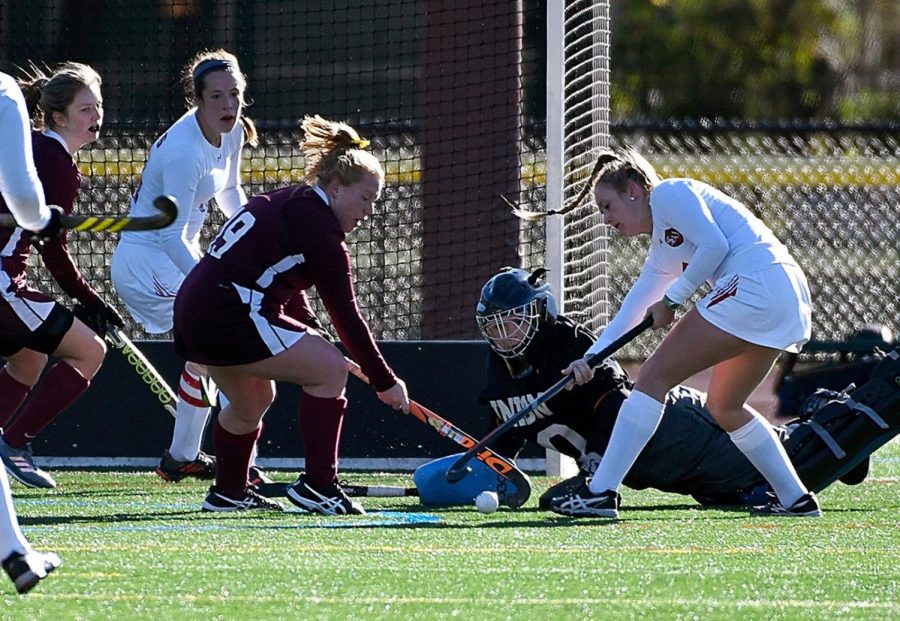 Isabel Yee, Columnist
September 19, 2019
After starting off the season with a 3-2 win against Castleton, the women's field hockey team lost their next two games against Wheaton (MA) and Stevens.
The women fell to Wheaton College in a 5-3 game. Both teams battled it out in the first period of the game as neither managed to score. Despite the scoreless first period, the Dutchwomen picked up their game in the second period Starting for Union in the second period was Laura Wind '21, Cristina Boudreau '22, Sydney Walters '22, Cici Lyne '21, Katie Talaci '21, Sarah Wilkinson '20, Eliza Munns '23, M.B. Rudolf '21, Charlotte Leyland '20, Caroline Werner '23 and Jill Bove '23. Wind had possession of the ball and passed over to Lyne, who shot the ball into the goal, scoring the first goal of the game.
The Lyons quickly responded by scoring a goal a minute after the Dutchwomen. In the last seven minutes of the period Talacci managed to score for Union giving the Dutchwomen a 2-1 lead into the half.
The Dutchwomen were scoreless in the third period. Wheaton tied the game five minutes into play and scored two more times in the period. At the end of the third, Wheaton lead the game 4-2. Wheaton scored again at the beginning of the last 15 minutes of play.
Union managed to regroup and scored the last goal of the game. The goal came from Leyland who had an assist from Boudreau. Wheaton won the game with a final score of 5-3.
On September 14, the women had another loss to Stevens Institute of Technology in a 3-1 game. It was a scoreless game until the end of the second period where Stevens scored twice in the last three minutes of play. Stevens led the game 2-0 and extended their lead into the third to make it a 3-0 game. Union was unable to score until the end of the fourth quarter. Cici Lyne scored Union's first goal with an assist from Bove.
Goalie Heather Poisson '21 had an impressive game as she had 16 saves. She had ten saves in the first half and six in the second half. The 16 saves are her fourth-highest of her career and her most since her career-best of 22 stops against Hartwick in October 2017.
The women look forward to bouncing back from loses when they play on September 18 against Morrisville State at Frank Bailey Field at Bertagna-Class of 1985 stadium. The game is slated to begin at 6:00 p.m.