Men's Soccer stay undefeated with win against Lehman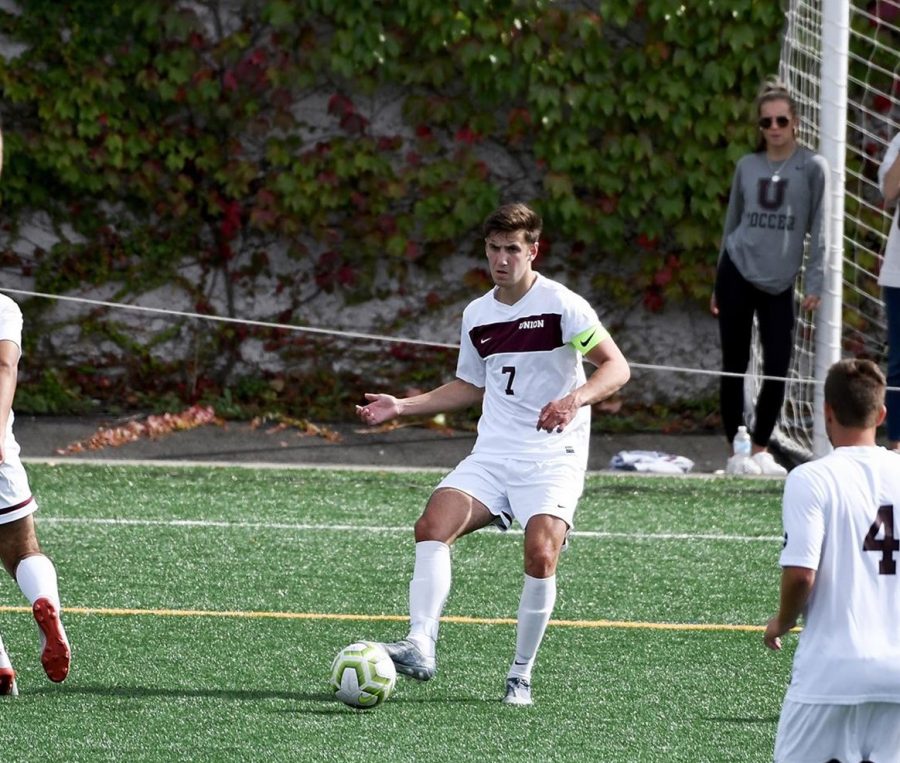 Elise Liebow, Contributing Writer
September 19, 2019
The Union Men's Soccer Team has a winning streak of 6-0 at the moment, having won every game played since the start of this season and keeping a record of 4-0 for home games and 2-0 for away games.
Their six games have been played against Lasell, Keuka, Manhattanville, Castleton, Anna Maria and Lehman College, respectively. The first four games were home games and the first two home games were part of the Union-Skidmore Classic. The second two home games were part of the Union-Rensselaer Classic. The scores against Lasell was 6-1 and the score for Keuka at the end of August was 4-0.
In the Union-Rensselaer Classic, Manhattanville loss with a score of 5-1 and Union kept their winning streak by beating Castleton with a close score of 3-2.
The game on September 10 in Paxton, Massachusetts against Anna Maria was a stunning win with an end score of 6-1, as our team scored three times in both halves. Seniors Griffin Cowles and Jeremny Conn were a consistent pair throughout the game, serving many passes for a number of goals. Conn made a goal within the first 14 minutes of the game, and classmate Yasin Dombayci and First Year Evan Farr scored by the end of the first half. In the second half, Cowles and Conn made a goal each within six minutes from each other, and First Year Nate Boule scored his first collegiate goal within the last five minutes of the game. Union outshot Anna Maria in the end 24-5.
In their most recent game with Lehman College this weekend, Salvador Lopez Jr '20. and Poom Mera '21 scored a goal in this close game as their competitors did not go down without a fight, scoring a point in the second half and ending the game with a score of 2-1.
This was Lehman's first loss this season as well. Lehman outshot Union 12-7, but Union brought home the win in the end. Cowles passed the ball to Lopez to start the game in the first half within the first 30 minutes. Mera made his goal in the 63rd minute from 15 yards out to win the game and bringing home another win from Bronx, New York.
Union's team will continue their season in Bronxville, New York on September 15 against Sarah Lawrence and hopefully continuing their winning streak.
Their 6-0 winning streak brings back the memory of a past successes. The last time the Dutchmen had a winning streak for the starting season was 2011, with a streak of 7-0. Along with the oncoming Sarah Lawrence game, the next couple of weeks brings back our men's soccer team for a few home games. September 20th will bring Skidmore, and a week later, the Union team will play Vassar on the 28.