Union College's Lothridge Festival of Dance stuns audiences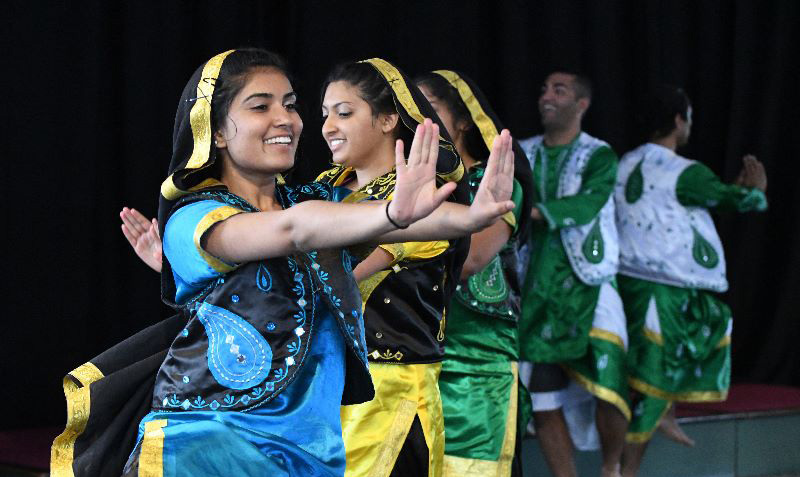 Rebekah Lindsey, Arts Editor
May 16, 2019
Union College's annual celebration of dance occurred last Friday for Steinmetz Day. A collection of 90 dancers presented their various pieces originally choreographed by staff and students. The show took place in the Nott Memorial.
Shreya Srivastava '20, Emily Alston '19, Portia Taylor '19 and Rebekah Lindsey '21 brought the work of an Indonesian choreographer called Dewi with her piece of traditional Balinese dance.
Balinese dance is a technique that requires subtle manipulation of the fingertips and an extension of awareness into eye movement and angular upper body positions. The ring of a gamelan welcomes vibrant sarongs, gold headpieces and a flurry of fallen petals.
African Dance brought infinite energy to the stage with their precise passion. Intricacy twisted past the dancers' fingertips and skillful isolations carried an interconnected heartbeat from shoulder to shoulder.
The K-pop club performed for the first time at Steinmetz this year. Each dancer had a lively vitality, and the coordination between artists in the piece was very well timed. Taylor and Yesenia Negron '19 presented a hip-hop piece titled "Mother."
The Latinx dance club took the floor with flawless footwork. The dancers were classically fluid and handled lovely and complicated choreography with ease.
Faculty member Laurie Cawley's modern choreography utilizes props, partnering, lifts and floorwork. The piece is a hectic work of art, distinguished by neverending movement and a cyclical unison between dances.
Shannon West '19 presented her last solo to Union College with a spoken word lyrical piece. The dance team was cheerful as well as skillful in their presentation.
The senior piece showcased the artists at our institution minoring in dance who are graduating this year.
"About Face" was one of the pieces created during the Staging and Production class offered this past winter term.
Miryam Moutillet presented a ballet piece regarding strength in the face of disconnect parallelled with a sense of resilience found in the camaraderie between united women.
The music to this piece is particularly breathtaking. Moutillet led, coordinated and directed this year's Steinmetz production with Cawley and has spent endless hours creating an assembly of beauty for Union's pleasure.
Emily Rasmussen '20 choreographed a group tap piece that was absolutely incredible. She and her dancers perambulate with professionalism and ecstatic demeanors, displaying years of training. It was a joyful piece and their toes never ceased tickling the tile below.
Srivastava performed a piece of Indian dance that was absolutely beautiful. Her fingerwork was perfection and her pure joy in her movement was felt by all 400 of the audience members.
Bhangra created a serpentine of interwoven formations. The group had a contagious energy to their work and ended with a live performance of drums.
The In-Unison Step team choreographed one of the most technically-attuned pieces in the show. The dancers shift from song to song seamlessly, refusing to hesitate for a moment in their impeccable synchronisation.
The coordination involved in creating audible rhythm was performed by this particular group with strength and sophistication.
Towards the end of the Steinmetz Dance presentation, China Campagnuolo '20 and Lindsey were awarded the Villella Scholarships to study dance for the following year.
Lindsey will be utilizing the grant to study aerialism in silks and lyra and Campagnuolo will be studying tap. Minerva Fellows Yesenia Negron '19 and Christie Dionisos '19 were recognized at the end of the show as well.