Outdoor Track and Field at Liberty League Championships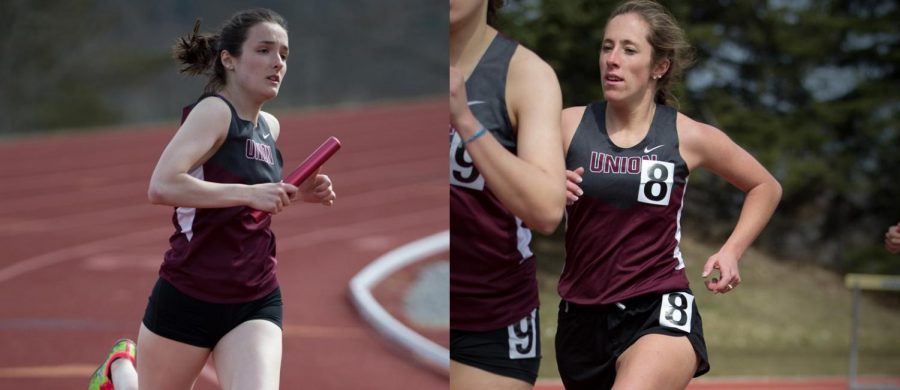 Annie O'Donnell, Columnist
May 9, 2019
The men's and women's track teams traveled to Rensselaer Polytechnic Institute (RPI) on Friday and Saturday to compete in the Liberty League Championships.
Dante Scott '21 had the highlight of the day for the Dutchmen, leaping 7.06 meters to break the school record of 6.91 meters set by Kyle Bucklin '12 in 2009.
The leap earned Scott third place and allowed him to pick up six points for his team and qualify for the AARTFC Championships. Arden Kellner '19 also earned a point on day one for the Dutchmen, grabbing eighth place and one point with a personal-best time of 9:58.00 in the 3,000-meter steeplechase.
David Bates '21 took 14 in the 800 meters, crossing the line in 2:00.68 seconds, just ahead of Colin Keally '20 in 18 place with a time of 2:00.85.
Andrew Fox '22 and Colin Czerpak '21 represented the Dutchmen in the 400-meter dash, with Fox placing 16 in 53.51 seconds and Czerpak coming in next with a time of 54.76 seconds.
Fox also was the team's top finisher in the 200-meter dash, clocking in at 23.75 seconds to place 18, just in front of Patrick Barry '22 in 24.45 seconds.
In the javelin, Alec Traktovenko '22 threw a personal-best at 37.55 meters and Jack Sweeney '22 threw 33.48 meters, placing 19 and 20, respectively.
Steven Cohen '19 also posted a top 20 finish in the 10,000 meters, finishing in 35:20.63.
Scott earned another top-three finish for Union in the triple jump, leaping a personal-best 13.73 meters to place third. Patrick Glennon '20 also finished 11 in the event with a top distance of 12.48 meters.
Tony Campedelli '20 threw a personal best in the discus at 40.04 meters, finishing in sixth place and earning three points for the Dutchmen.
Traktovenko also took 21 in the event with a top distance of 30.62 meters. The Dutchmen earned two more points in the final event of theday, as the 4×400 relay team of Will Fisher '19, Keally, Bates and Fox finished in 3:29.11 to place seventh.
Kellner also added a 15 place finish in the 5,000 meters, crossing the line in 15:53.73. Traktovenko earned a top 20 finish in the shot put as well, placing 19th with a top toss of 9.89 meters.
Kaitlin Close '19 started off the Dutchwomen in the 400 meter dash finishing 9 with a time of 1:02.93. Close also joined sophomore Amanda Ashmen '21 in the 800 meters, with Ashmen taking 16th in 2:31.47 and Close placing 18 in 2:39.87.
Anna Trancozo '22 was the Dutchwomen's top finisher in the 200-meter dash, finishing in 30.01 seconds to place 16. Annie O'Donnell '21 followed in 17 place in 30.28 seconds. O'Donnell and Trancozo also took part in the javelin throw, with O'Donnell registering a personal best distance of 24.23 meters to place 15 and Trancozo finishing 16 with a mark of 18.55 meters.
Qualifying athletes will continue the season at the All-Atlantic Region Championships, held on May 15-16 in Cortland.