Campus and Schenectady community march in pride walk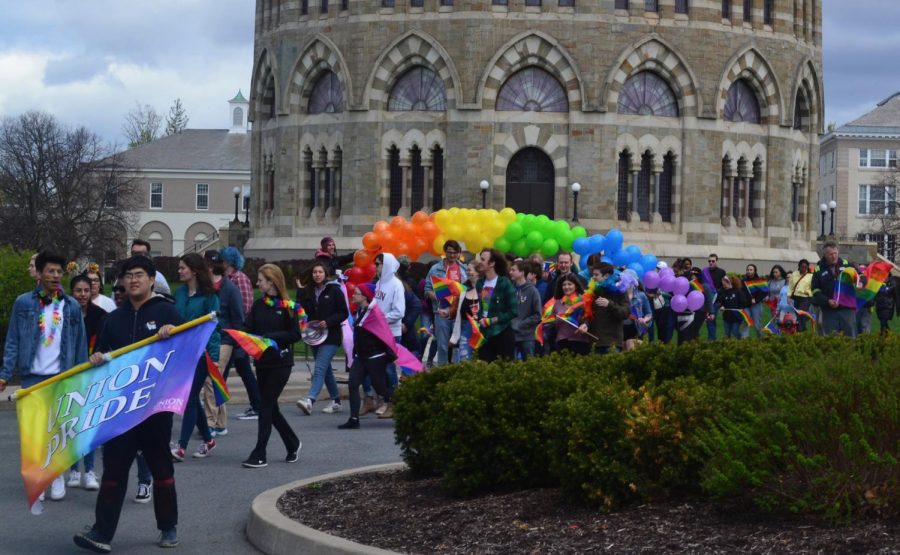 Katherine Sadak, Contributing Writer
May 2, 2019
The eighth annual Union Pride March took place this past Saturday, April 27, with the bringing together of the campus and Schenectady Queer communities. This is the biggest event on the Union Pride calendar, with turnout being seen from staff, faculty and students, as well as appearances from U.S. Congressman Paul Tonko, a representative of Governor Cuomo and the Mayor of Schenectady Gary McCarthy.
The area around the Nott Memorial was decorated with a collage of rainbow colored balloons, with the theme of color being prevalent in the area surrounding the event. On the steps going up to Schaffer Library the stage had been set out with a lectern and signs about the event. A crowd had gathered with groups of Union students and staff in addition to families and community members, wearing varying amounts of colorful clothes. President Harris was also in attendance with his two dogs.
The walk was kicked off by the Associate Dean of Diversity and Inclusion Janson Benitez. His first words were, "We are not going to let the wind disturb us."
A countdown to the start of the walk was called and the gathered to begin their path around Schenectady. Throughout the walk, passing cars honked their horns in a show of support for the parade.
After the walk had been completed, the crowd again surround the steps of Schaffer Library to listen and watch performances from various groups from the Union community, including the Eliphalets, the Dutch Pipers and the African Dance group.
Food and drink were also provided to the attendees, including hot coffee to help combat the cold weather.
Leading up to the Pride Walk, the Association of American University Women (AAUW) and the Women's Union teamed up with Union Pride to invited representatives from Planned Parenthood last week to discuss resources they have for queer people.
Union Pride offers an Ally program, with trained individuals providing support to LGBTQ+ students. Courses are also offered that address various issues of LGBTQ+ life.