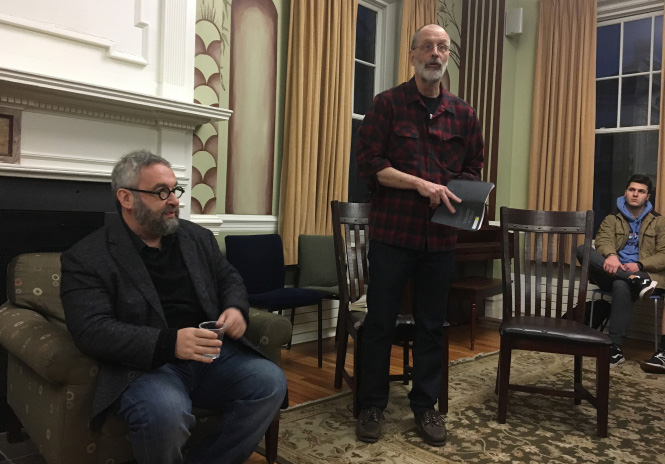 On Monday, February 4, author and Concordia University Professor of English Mikhail Iossel came to Breazzano House to talk about his new book, "Notes from Cyberground: Trumpland and my Old Soviet Feeling." Iossel also talked about his experience as a writer on Facebook and other forums. He additionally spoke about being a Russian immigrant in the modern political climate of the United States.
While Iossel is a published writer, he still writes numerous short stories and political essays on Facebook. According to Iossel, in the beginning, his writing on Facebook was simply a way for him to practice writing and "a sort of semi publishing… it's a [different] mechanism of writing stuff… like writing prompts… it erases the possibility of rewriting."
He went on to describe how writing on Facebook forced him to adopt a "cavalry assault" approach.
He stated, "The moment you slow down, you realized you [don't have] much to say." Later on in the talk, Iossel also noted, "It's a matter of discipline [to write]… I try to make writing fun."
Union College Professor of English and Russian Studies Anastasia Pease said, "As a communication platform, Facebook would be much better if more people shared quality original writing, as Professor Iossel does. Moreover, I know there are many talented Twitter or Instagram poets, for instance. And that is a splendid development."
His writing evolved after 2016 and the election of Donald Trump to the Presidency. Iossel's writing changed in both its subject and purpose. "[Writing on Facebook] has become an outlet for my venting [my discontent at the administration]… I have absolutely no delusion that it's going to change anything."
He then explained his shift in topic by explaining his writing process and how a piece of writing arises from emotions and "shards of memory…which I have no control over."
According to Iossel, when he writes, one thing leads to another until completion.
When asked if he had ever been exhausted when writing about politics, Iossel said, "I choose to do it… strong feelings make you realize you are alive."
"It's interesting how he used Facebook and the election to sort of fuel his writing… I would be interested to see someone who uses writing as an outlet for these feelings [of discontent]," said Nathalie Gullo '21.
Iossel remained skeptical of the prospect of educating his audience, Americans and Russian expatriates, about one another through Facebook, something he describes as "an echo chamber."
When asked about his experiences of writing in both Russian and English, Iossel said, "When I'm writing in Russian, I'm a Russian writer. When I'm writing in English, I'm an American writer."
Iossel spoke about the immigration experience at large.
He spoke about how many Russian immigrants still watch Russian news or turn to conservative media.
"Your whole center of existence is shifting… it's overwhelming and you try to look for the simple truth of the world," he said.
Speaking about the U.S. news, he also added, "Politics has always been the end of the world [in America]… Everything is always groundbreaking and unprecedented."
According to Iossel, many Russian-American writers were bought out of the USSR when they were young.
When they write about Russia, they are actually writing about their own experiences in contrast to Iossel, who writes about his own life in the Soviet Union.
"Well, he and I mostly agree and feel similarly about the Russian immigrant community in the U.S. and about Putin's ghastly reign in Russia… We also have similar feelings about the current American administration," Professor Pease said.
She was also born in Russia and immigrated to the United States over 20 years ago.