The Cost of Union, part 1: the comprehensive fee
This article is the first part in Concordiensis's series: The cost of Union. This series will explore how Union generates its comprehensive fee, the logistics behind Union's financial aid packages, and the logistics behind Union's work-study program. This article will begin by exploring the question: what happens to a student's tuition payments? 
For the 2022-2023 academic year, Union College's comprehensive fee costs $79,722 before financial aid and scholarships are applied. This does not include the cost of health insurance (which is currently $2,401.77 and which students may waive), summer course fees, fourth course fees, mini term fees, and other small fees. For years, many students have wondered: what happens to my tuition when I pay it? Concordiensis sat down with the College's Vice President of Finance, Scott Jones, and researched the college's financial statements to learn about this question.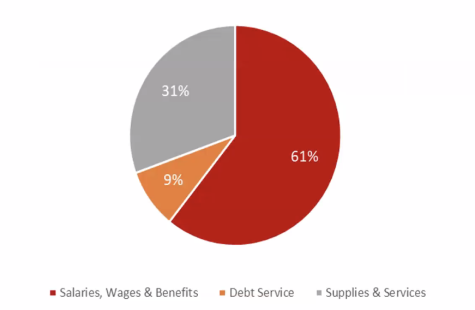 First, it's important to explain why Union generates its comprehensive fee. "The comprehensive fee is directly tied to the cost of running the College," according to Jones. The college's total expenses for the 2022 Fiscal Year was $​​144,977,513, according to the college's yearly financial statements. Union's 2022 Fiscal Year began on June 30, 2021 and ended on June 30, 2022. 
Jones explained that "Faculty and staff wages comprise the single largest type of expense. In addition to the expenses associated with providing academic and extracurricular programming, Union also provides all the amenities of a small city – from dining options to housing to health care – and the expenses that go with it, including utilities, facilities and grounds maintenance, long-term debt on buildings and more. Altogether, Union employs more than 200 faculty members and approximately 600 full and part-time staff members to operate the College." 
Union pays these expenses with its revenue. For Fiscal Year 2022, Union's total revenue was $135,329,485, according to the college's financial statements. Union's comprehensive fee generates about 64% of the college's revenue, according to a graphic in President Harris's State of Union Address. The other 36% of revenue comes from the endowment, gifts by donors, and other sources. 
What's important to note is that Union is a private, non profit organization, which means that Union receives no funding from the taxpayers of New York state. This is unlike nearby schools such as the University at Albany, which is a public research university. This makes Union far more dependent on the comprehensive fee of $79,722; by contrast, undergraduate tuition for New York residents at the University at Albany is $26,066, whereas non-New York residents pay $43,906. There is no difference in charges between New York and non-New York residents at Union. Other liberal arts colleges such as Hamilton College, Connecticut College, Amherst College, Dickinson College, and others charge a similar fee with no tuition distinction between in-state and out-of-state residents. 
In addition, the cost per student exceeds the comprehensive fee. The average cost per student is about $100,000, and about $20,000 from the endowment, gifts, and other revenues, according to Jones. 
Jones, the VP of Finance, also explained that if the college generates any surplus revenue, it is "invested back into the College to support the academic mission, facilities and other College needs over the long term. As a general rule, the College aims to spend as close to its budget as possible each year, while also keeping a relatively modest reserve fund for emergency use. There is no incentive for the College to generate a "profit" as there would be at a for-profit company." 
Union also increases its comprehensive fee annually: from the 2021-2022 school year to the 2022-2023 school year, the comprehensive fee increased by $2,865. Jones explains that "The College works hard each year to minimize the increase in the comprehensive fee, but as costs escalate each year so does our need to generate additional funding. And with student fees being the single largest source of funding, a small increase in the comprehensive fee can yield much-needed funding. At the same time, the College is committed to operating as efficiently as possible and is continuously looking for ways to control its costs in order to minimize the impact on the posted comprehensive fee."
What does Union do with that revenue to pay its expenses? When a student pays their tuition money, approximately 61% is spent on salaries, wages, and benefits for the faculty and staff, 31% is spent on "things like classroom and lab supplies, food, programs, utilities, travel/transportation, building maintenance, etc," and 9% is spent on debt repayment such as the cost of building ISEC, according to Jones and President Harris's State of Union graphics. 
It is also important to note that many students do not pay the full fee. For this current year, the average current need-based financial aid package is $46,000, and the average merit scholarship is $23,000. 
"In fact, Union is among the relatively small number of colleges or universities nationwide committed to meeting the full financial need of accepted students through a combination of financial aid, work study and student loans," according to Jones. Concordiensis will provide insight on Union's work study program in part 2 of this series. 
Sources
https://www.union.edu/sites/default/files/finance/202212/afs-fy22.pdf
https://www.albany.edu/cost-aid/tuition-fees/tuition-fees-undergraduate-students